Vermont Quarterly
•
Winter 2009


WHAT WOULD EINSTEIN THINK?

Science and religion often stand in stark opposition to one another. Scientific findings progress while religion appears antiquated. Faced with a choice, some abandon religion altogether, others struggle to find a compromise between the logic of science and the awe of spiritual tradition.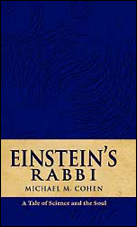 This quandary drew Michael Cohen '80 into a project that would occupy him for the better part of three decades, culminating in the recent publication of Einstein's Rabbi. In 1980, Cohen took a history course with Professor Henry Steffens in which he wrote a semi-fictional paper called "A Short Tale Plus a Conversation About Albert Einstein On Religion and Science, His God, and His Judaism." Cohen wrote about Einstein's beliefs regarding the two seemingly disparate domains. Yet, as that mouthful title suggests, his scope was too ambitious to be contained in a short story. Though his early attempts at publishing the story following graduation fizzled, Cohen would repeatedly return to the work.

Its transition to published novel was influenced by Cohen's life following graduation. He worked for a year at the American Zionist Youth Foundation, and then began studies at the Reconstructionist Rabbinical College near Philadelphia. Cohen currently serves as rabbi for the Israel Congregation located in Manchester, Vermont. He balances that with work as one of the founding members of the Arava Institute for Environmental Studies in Israel. The project draws participating students from several nations and aims to find solutions to environmental challenges.


Cohen's experiences manifest in Einstein's Rabbi. The novel follows the growth of the young protagonist, Joseph, much like a bildungsroman. He struggles over what role religion should play in an increasingly secular world. Eventually, Joseph seeks out Albert Einstein's rabbi, wondering how the great physicist solved the same problem. "I wrote the original paper more from the perspective of the student," says Cohen, "Much of the life of Joseph is borrowed from my life." Accordingly, Joseph's insights and questions feel genuine, like the search of many young people.

When Cohen later returned to his novel, in the time between his responsibilities at work and home, he had the benefit of his life experiences. Specifically, the five years in the rabbinate allowed him to write "more from the perspective of being a rabbi." By the time the final draft was complete, the answers to Joseph's questions are provided by a man with twenty-eight years' more experience and knowledge than the questioner.

Einstein's answers, offered through his fictional rabbi, reveal a balance accepted by the scientist. Cohen drew his information from historically accurate quotes and biographical background. It is only the interpretation of the quotes that Cohen takes upon himself. The novel format gives Cohen the freedom to tie the quotations and events together in a meaningful manner. Ultimately, Cohen hopes that the novel "helps the reader address and wrestle with some of the important existential and philosophical questions of life."

~ David Stawarz '08